La Manzanilla Artists
La Manzanilla has a variety of local and expat artists available for commissioned work and or teaching classes and workshops. Many display art around town at various La Manzanilla Restaurants as well as in their homes.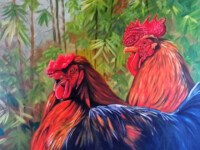 Kathy, a native of Seattle, has always had a passion for painting. She recalls her first completed piece at about age 9. After moving to Mexico a few years ago, her perspective changed and she was inspired to paint the people and places she saw around her. Here she has her first true studio space which has allowed her to create more paintings in the last year and a half than she has in her lifetime. With the natural light her studio offers she brings to life the beach, jungle and local faces of our village in her realism style; you can feel the palms swaying and see the child's hair blowing as you gaze at her pieces. Kathy continues to take lessons with other artists to develop her style and further her growth as an artist. Her work can be seen this season at Galeria La Manzanilla.